Fresh and original salads for those tasty light lunches, paired with an icy glass of Tramonte, our fruity and elegant chardonnay.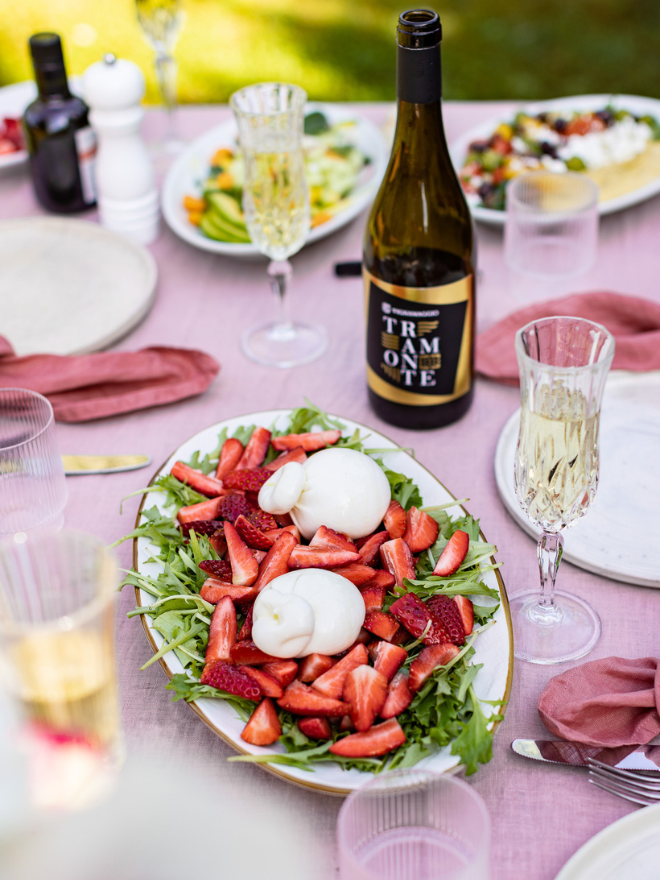 STRAWBERRY AND BURRATA SALAD
INGREDIENTS
400 g strawberries
5 basil leaves
3  150 g burrata balls
200 g mixed salad
Vignamaggio organic extra virgin olive oil
Balsamic vinegar glaze
Salt to taste
METHOD
Wash the strawberries and the mixed salad. Cut the strawberries into wedges.
Lay the salad leaves on a plate and top them with the strawberries. Place the burrata balls on top of the strawberries and dress with extra virgin olive oil, a few basil leaves, balsamic vinegar glaze and salt it to taste.
Place in the fridge and serve cold.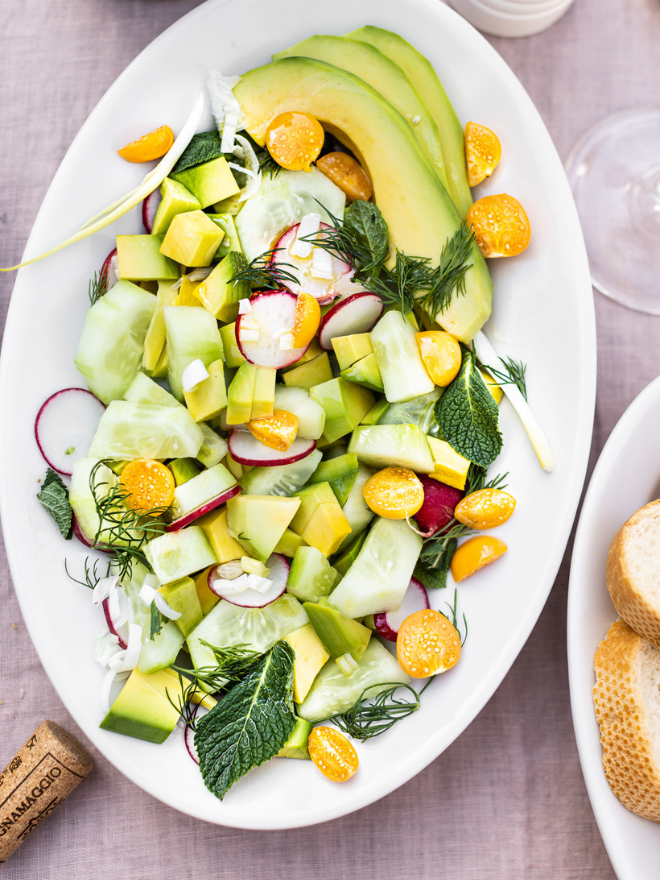 AVOCADO, CUCUMBER, RADISH AND WINTER CHERRY SALAD
INGREDIENTS
1 ripe avocado
50 g winter cherries
6-7 radishes
2 cucumbers
10-15 mint leaves
1 lemon
Vignamaggio organic extra virgin olive oil
Salt
Pepper
METHOD
Peel and dice the cucumbers and avocados. Rinse and thinly slice the radishes.
Finely chop the mint, add to the oil, lemon and salt, and mix well to obtain a mint 'vinaigrette' to dress the salad.
Place all the ingredients on a serving plate and dress with the mint vinaigrette. Mix and serve chilled.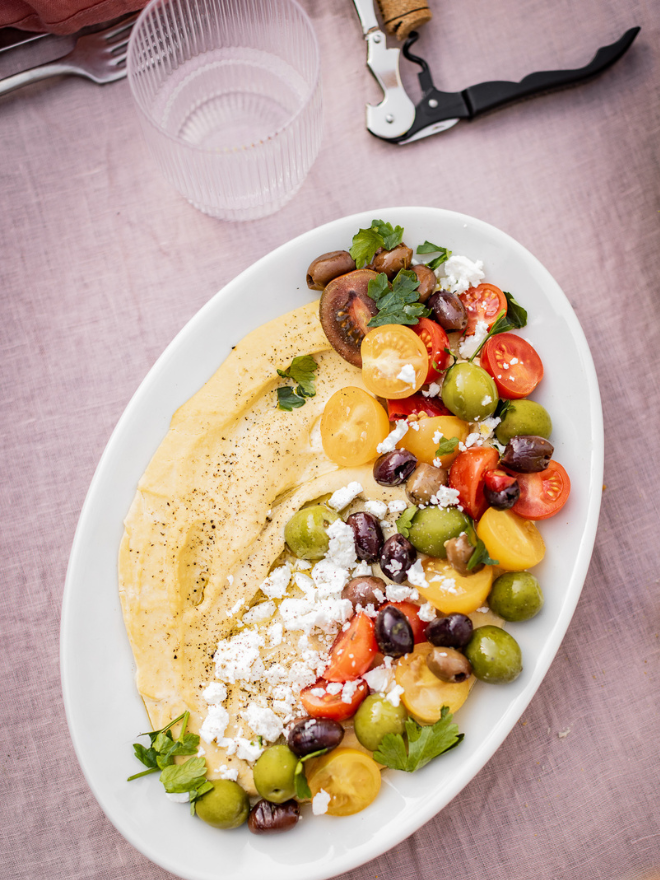 HUMMUS WITH FETA, CHERRY TOMATOES, AND GREEN AND BLACK OLIVES
INGREDIENTS
For the hummus:
400 g cooked chickpeas
50 g tahini
30 g extra virgin olive oil
Juice of 1 lemon
½ clove of garlic
2 tablespoons of water
Salt to taste
For the garnish:
200 g red and yellow cherry tomatoes
100 g green olives
100 g black olives
Parsley to taste
200 g feta
Extra virgin olive oil
Sweet paprika
Salt to taste
METHOD
Begin by placing all the hummus ingredients into a blender and blending to obtain a smooth and creamy texture.
Then rinse and quarter the tomatoes and mix them in a bowl with the olives, extra virgin olive oil, parsley and salt.
Place the hummus in a serving dish, crumble the feta over it, and top with the tomatoes, olives, and a dusting of sweet paprika!
Place in the fridge for 20-30 minutes and then serve with crusty toasted bread!