On the farm, we are picking our organic Gocce d'Oro plums. These are sweet and sour plums that are delicious eaten fresh, or used in cooking to add a touch of colour and flavour to your dishes.
La Focaccia del Fattore was our Ilaria's idea. Every day, using products our farm, Ilaria prepares the cakes and focaccia that are served for breakfast at the La Pensione hotel.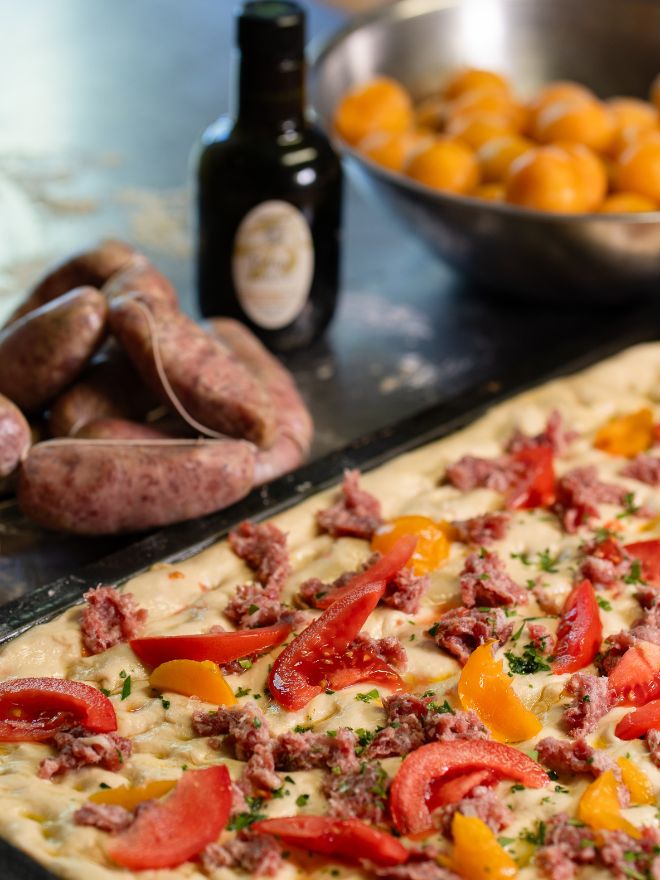 Ingredients for the dough:
1 kg flour
1 cube of brewers yeast
700 ml water
100 ml Vignamaggio's extra virgin olive oil
1 teaspoon fine salt
For the topping:
4 organic Goccia d'Oro plums
4 tomatoes
4 pork sausages of 30 g each
Rosemary, bay leaf, and chives (chopped)
Mix the yeast into the flour, slowly adding the water so that the yeast is absorbed gradually. Add 100 ml of Vignamaggio's extra virgin olive oil and a teaspoon of salt. Knead the dough by hand or mixer for 10 minutes and let it rest in a cool dry place for 2 hours. After this, knead the dough again by hand and lay it out onto a well-oiled oven pan or sheet of baking paper. Slice the sausage, plums and tomatoes, and arrange them on the dough. Garnish with chopped rosemary, bay leaf and chives and let it rest for one night. Bake for 20 minutes at 180 degrees, adding a drizzle of oil, salt and pepper when it is cooked.