Frollemente's recipe to pair with our Sangiovese di Vitigliano.
INGREDIENTS
(serves 4)
For the gnocchi:
250 g pumpkin
150 g flour
1 egg yolk
A pinch of salt
A pinch of nutmeg
For the taleggio cream:
200 g taleggio
100 g fresh cream
300 g mixed mushrooms
1 clove of garlic
1 sprig of parsley
Salt and pepper to taste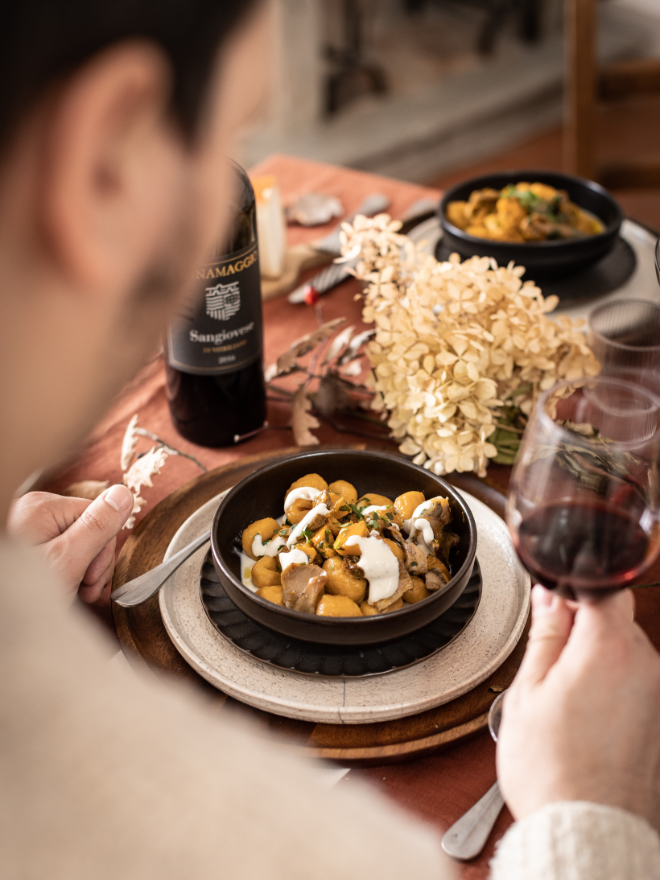 METHOD
Begin by preparing the gnocchi.
Steam the pumpkin for 30 minutes ensuring that it remains nice and firm and does not become watery. Once cooked, blend the pumpkin well, place it on a pastry board and add the flour and eggs. Dust with nutmeg and knead the dough until it is smooth. Roll pieces of the dough into ropes that you will cut into nuggets. Run the nuggets of dough over a gnocchi maker to form your gnocchi. Alternatively, you can run the nuggets over the back of a fork.
Lay your gnocchi on a floured tray, making sure they don't stick together.
While your gnocchi rest, begin making the cream sauce. Clean the mushrooms well and finely slice them. Saute the garlic in a pan and add the mushrooms.  Add the chopped parsley and sauté on a high heat for about 4-5 minutes, until they are ready.
Prepare the taleggio cream by heating the cream and cubed taleggio in a small pot. Stir the mixture until it has melted and add salt and pepper to taste.
Bring a large pot of salted water to the boil. Once the water is boiling, add the pumpkin gnocchi and cook them for 3 minutes.
When they are ready, fill the base of each plate with some taleggio cream, add the gnocchi and dress them with the mushrooms. Finish off with the rest of the taleggio cream and a sprinkle of fresh parsley.